DEC22
Details

Created: Wednesday, 14 December 2022 10:01
Written by Nick Barrable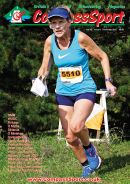 DEC22 issue (Vol.43/6) was posted on Friday 16th December. Despite some getting their magazines on the Monday as normal, others have had theirs arrive after a month. So there might still be hope if you have not had yours yet! As usual our DEC issue is BIG - another 64 pager. DO NOT take it into the toilet with you to read as you will be in there many hours blocking others access to this valuable resource ;-) This issue contains our new columns, O Myths and O Mistakes, Know your Class Leader, reports on JHIs, VHIs, SHIs, JIRCs, JWOC, WUOC, BSOA Champs., 53rd OMM in the Lakes, ETOC, WTOC, JEC, Safety Column, Silvanus, Reviews of latest Inov8 Roclite, How to plan a day of the O-Ringen - in 4 years!, Competitions, Countdown to WOC 2024, GB Squad News and various other bits and pieces, including the 2023 Foreign Multiday Events Calendar! 
Make sure you give everyone in your family a subscription for Christmas :-)
Have a fabulous Yuletide!