Individual Copies
Details

Created: Tuesday, 14 December 2010 21:13
Written by Nick Barrable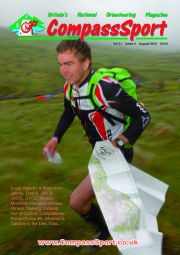 Need an extra copy of an issue? Write in the Issue number and we'll send you that issue.
Note: We now have spare issues of all magazines. Always mail me if in doubt but you will always get a full refund in the unlikely event that we have run out of the issue you want. (Should we run out of an issue we can get one for you if you can wait a bit). Please mail Nick AT CompassSport.co.uk
This 'Individual Copies' includes issues of The Orienteer, which CompassSport owns full copyright of. We have in stock all of The Orienteer issues back to the 60s when it started which was the British Orienteering Federation Magazine before CompassSport. Get in touch for which issues/volumes you are interested in.
Note: we do not buy old issues of the magazine. We have enough stock and not enough room to store them all anyway!