JUN15
Details

Created: Monday, 25 May 2015 15:18
Written by Nick Barrable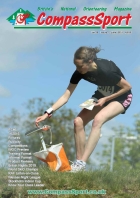 JUNE 2015 (Vol 36/2) is an orienteering extravaganza with a map count of over 15 beauties... Read about the British Championships in Long, Relay, Middle, Sprint, wonder at the multiple British successes at the World Schools in Turkey, marvel at the Lisburn Festival of Orienteering coverage, be inspired by the Class Leaders profiled: Anne Straube OD and Keith Masson MV, Win yourself a November Classic entry or a Bridgedale Beanie in the Competitions, be amazed at Miika Kaukinen's latest Map Art, follow David Williams HOC as he re-enacts his first O event, 40 years ago to the day, improve your O with training inspired by the Swedish National Team, Informal Event Format by David Alcock at AIRE, and see if you have come in the top 120 of the age & gender adjusted CompassSport rankings by David Nevell DVO. There is a new name at the top of the list. But who is it?
And this isn't all - there is at lot more! Make sure you have a subscription or buy individual copies - see links on left
Our cover girl recently made her senior GBR debut in Scandinavia - Alice Leake from Southern Navigators. Seen here at the British Sprints in Aldershot, taken by CompassSport Photographer, Mark Cheesman.