OCT22
Details

Created: Monday, 14 November 2022 14:48
Written by Nick Barrable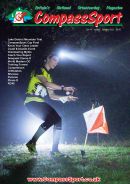 Issue 5, Vol. 43 (aka OCT22) went to our printers S&G in Southern Wales on Monday 14th November. It will start arriving in the UK in a little over a week. It contains a super mix of O delight. Expect to read about the CompassSport Cup Final, World Masters O Champs in Puglia, Italy, Lake District Mountain Trial, Canoe-O in Cumbria, Uslar 5 Days, Germany, New columns: O Mistakes and O Myths, Photo-O, usual Competitions, Silvanus column, Training Formats and more.
Christmas coming? Maybe your loved ones need a CompassSport Binder or Headband or minikite? These can be order from our 'shop' (link on left) or http://www.compasssport.co.uk/index.php/compasssport-shop-mainmenu-38 - We also have some surplus of last issues' WOC 2022 posters - while stocks last - £1+P&P (bulk postage discounts of course.) E-mail the Editor on Nick_at_CompassSport.co.uk.
Want to sample what CompassSport is all about? Mail me on the e-mail above with your postal address and ask from a free sample back-issue copy.
Subscriptions for Christmas make a great gift. Sign up via PayPal (link on left) or get in touch for BACS bank details.