CompassSport
Details

Created: Saturday, 14 March 2009 01:00
Written by The CS Team
FEB09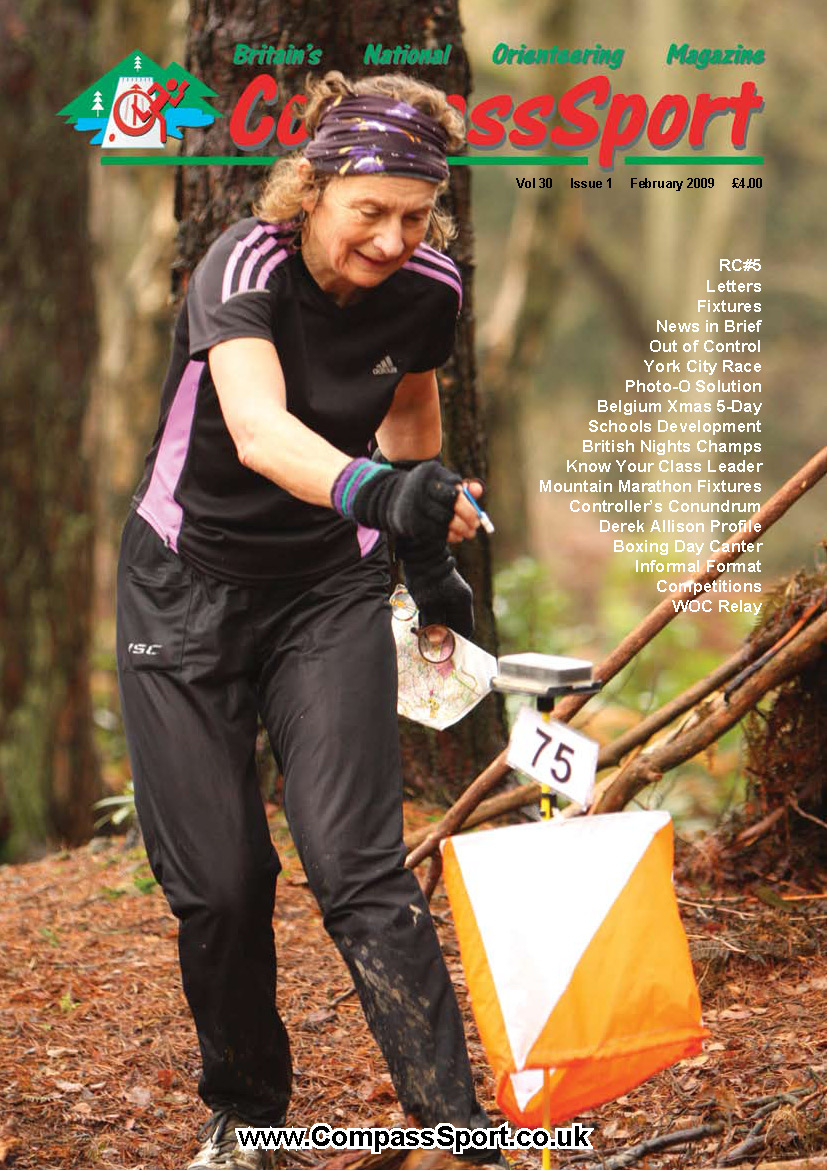 Welcome to CompassSports 30th year. The first issue of 2009 will be in the post on Wed 25th Feb.and will include Part 1 of The CompassSport History by Ned Paul, as well as British Night O Champs coverage, Wimborne OC's Boxing Day Canter, Belgium 5 days, the answers to the Photo-O and an article on how to crack Photo-O by Brian Parker. British Trail O Champs 2008, Schools Development, Know Your Class Leader is a couple of top 65's, Rumblings from the Forrest, Out of Control and Controllers Connundrums Columns, Competitions - win entries to the Swedish O-ringen and the White Rose Weekend 2009. There is also Previews of the York City Race, WMOC 09 and iROC. So, as usual, the issue is rammed full :-)

DEC08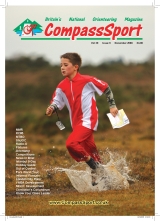 The last issue of Volume 29 / 2008 is the biggest ever CompassSport to date - 60 pages! We always promise you 52 pages and we have gone to 56 pages a couple of times before but this is the first time we have gone to 60! The issue includes the Junior Home Internationals, Istanbul 5 days, London City Race, European Mountain Bike-O Champs, 40th anniversary of Sheffield Uni OC, PWT in Italy, Orientator 2008, YH Schools development and Publicity in MDOC and an exclusive interview with multiple Radio-O Champion Karel Fucik CZE, as well as the usual columns and features. Make sure you are subscribed so as not to miss out on all this action!
National Champions Crowned at the CompassSport Cup & Trophy!
Congratulations to South Yorkshire Orienteers who won the big clubs competition ahead of last years champions Octavian Droobers and to Forth Valley Orienteers who held onto the small clubs trophy making it 5 times since 1983 that they have won. Results are at http://www.cix.co.uk/~neper/csc08/index.htm Many thanks to OD for hosting this years Final.
NEW - PHOTOS from CompassSport Cup Final in Sutton Park and November Classic from CompassSport photographer Mark Cheesman are uploaded - see 'Photo Sales' link on left. Search your club in the top right search box. If you were not wearing a club/regional/national top will have to search each page individually. Also, Welsh 6 days if you haven't seen them yet.
Fancy buying something? CompassSport logoed products are the things for you. Red re-usable CompassSport shopping bags (2.99gbp), a few caps (6.99gbp) and green T-shirts left (4.99gbp). Prices include P&P in the UK. Send cheque payable to CompassSport, together with your address to 6, Glenmore Park, Tunbridge Wells, TN2 5NZ Questions? mail Nick (at) CompassSport.co.uk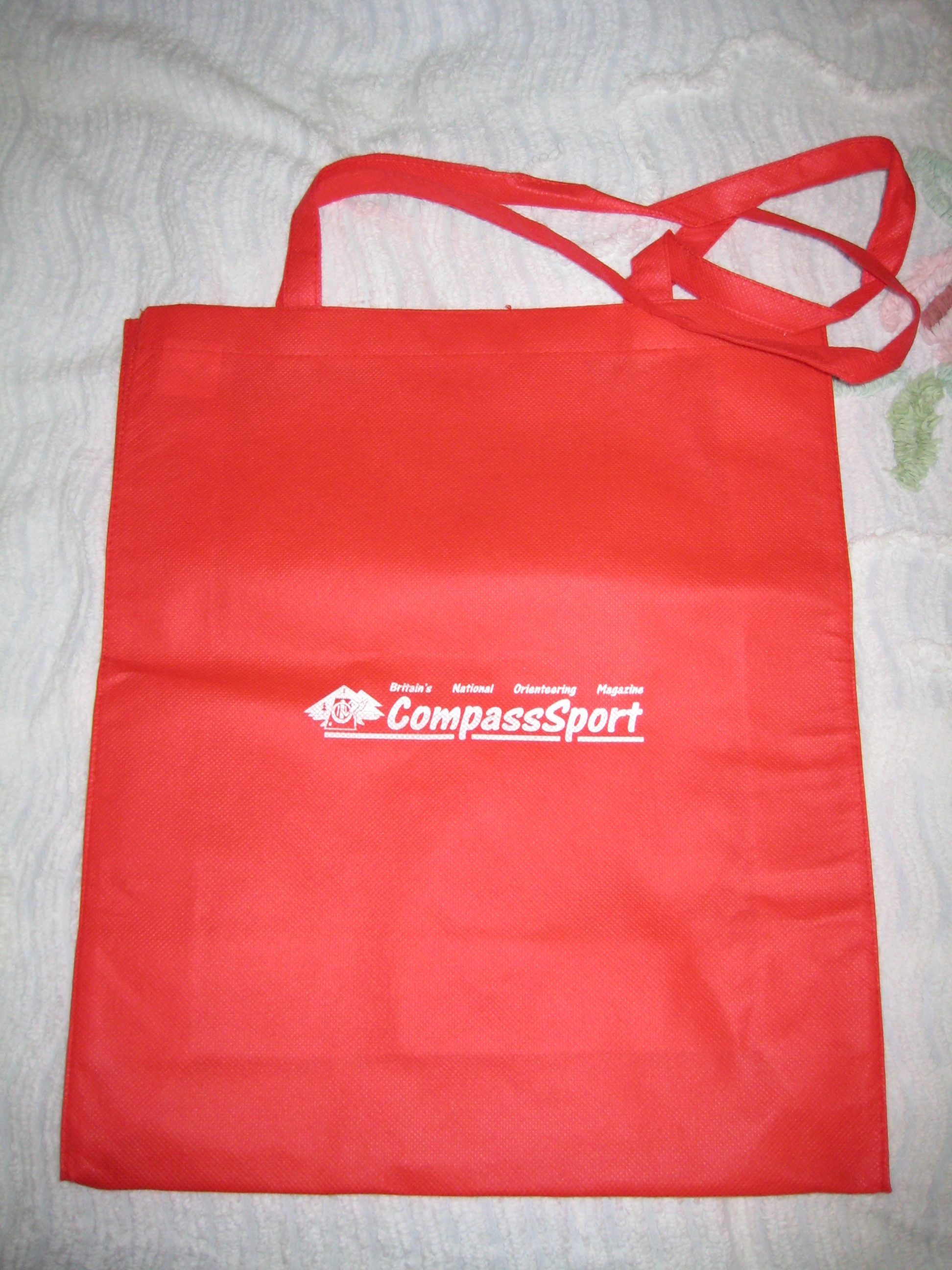 OCT08
This issue is now at the printers and should arrive at the end of the month. We have an exclusive on the MDOC club Minibus, as well as the Canadian Orienteering Champs, Welsh 6 days, Photo-O competition, Chislehurst Cave Trog O from 1983, Mourne MM, Pheonix Long-O, Rab MM, Euro-KIMM, European Mountain Biking Championships, a special Know Your World Champion Leader with Sarah Dunn and James Crawford and the usual favorites...and of course, the World Orienteering Championships 2008.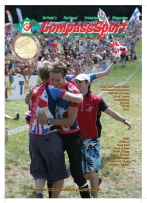 FREE Magazine to taste the delights?
Are you wondering whether to subscribe to CompassSport or not? We are currently offering to send you out a free back issue to see what you missing if you mail Nick (A T) CompassSport.co.uk with your name and address. Offer not valid for those who have lapsed in the last 2 years and we reserve the right to not send copies outside the UK.
AUG08
If you are a subscriber, you should have your copy now. If not, do get in touch. It contain comprehensive coverage of the World Masters in Portugal, Junior Inter-Regional Champs organised by AIRE, British Mountain Bike Champs in Scotland, Stockport City Race, Puglia 5-days, as well as bucket loads more...

JUN08
The June Issue includes the British Champs at Culbin, The World Schools in Edinburgh, the Harvester Night Relay, TioMila in Sweden, Trail-O, Open 5 Adventure Racin, 10 things you didn't know you missed, Know your club O-top, RC#5 and of course, truck loads more...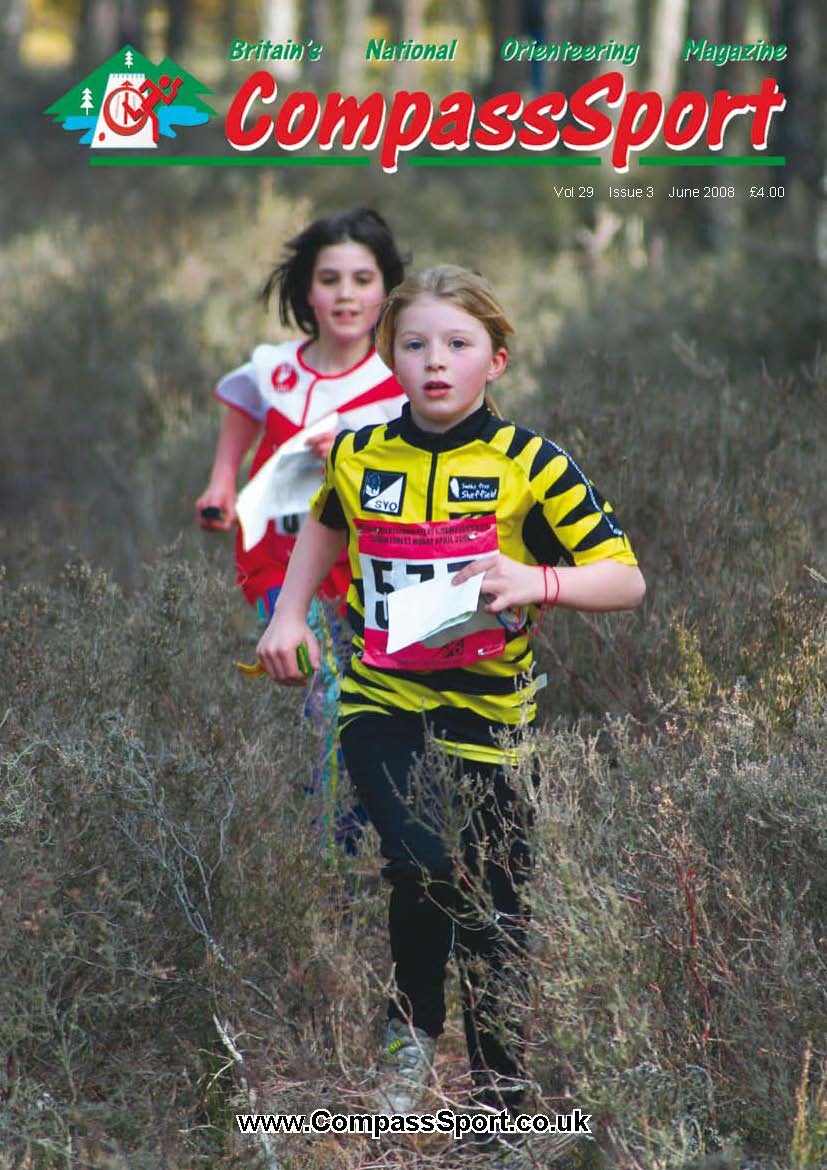 MAY08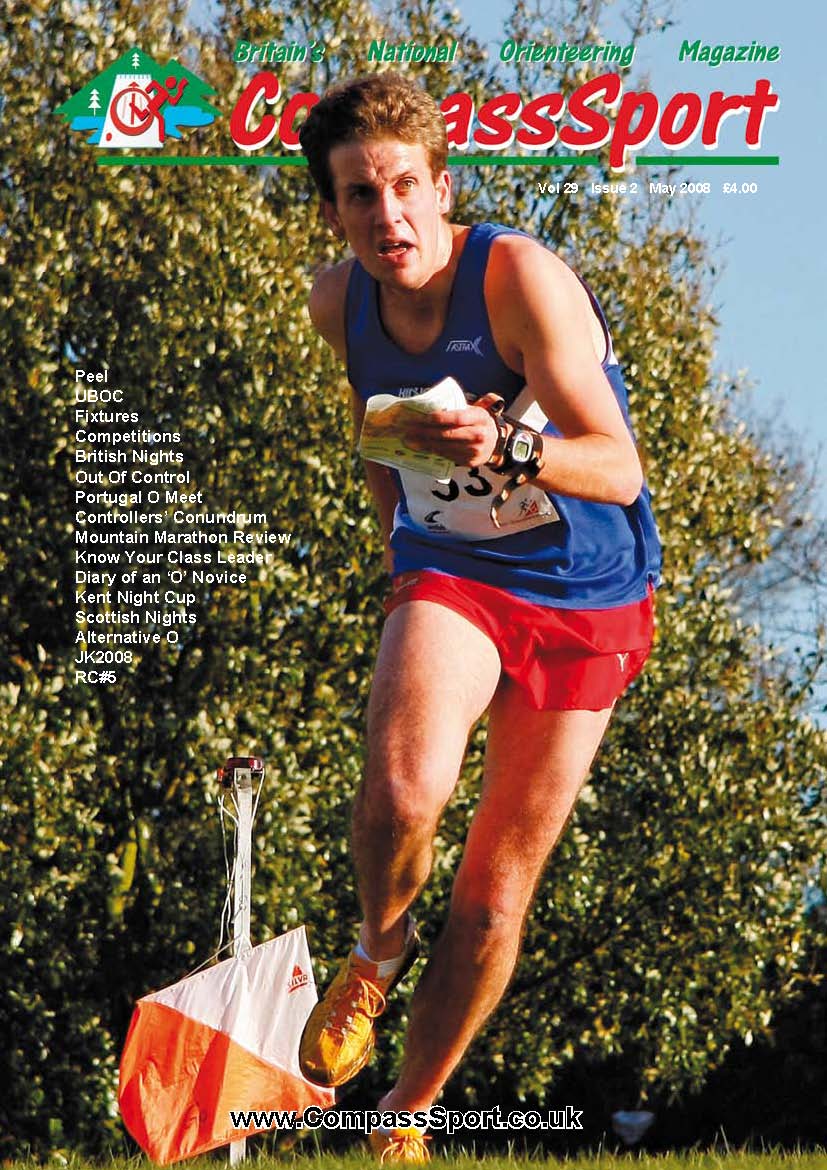 2-2008 is out. If you havent got your copy yet, get in touch. It includes JK 2008 where we cover W12 in the Sprint, M40L at Leith Hill and W21E at Pippingford Park, British (M50L) and Scottish (Course2) Night Champs, Highlander Mountain Marathon, University of Bristol OC, Kent Night Cup, Portugal O and all the usual features, including your chance to win a weekend at the White Rose.
NEW PHOTO SALES GALLERIES uploaded: Check out to see if you are there - search on your club name.
FEB08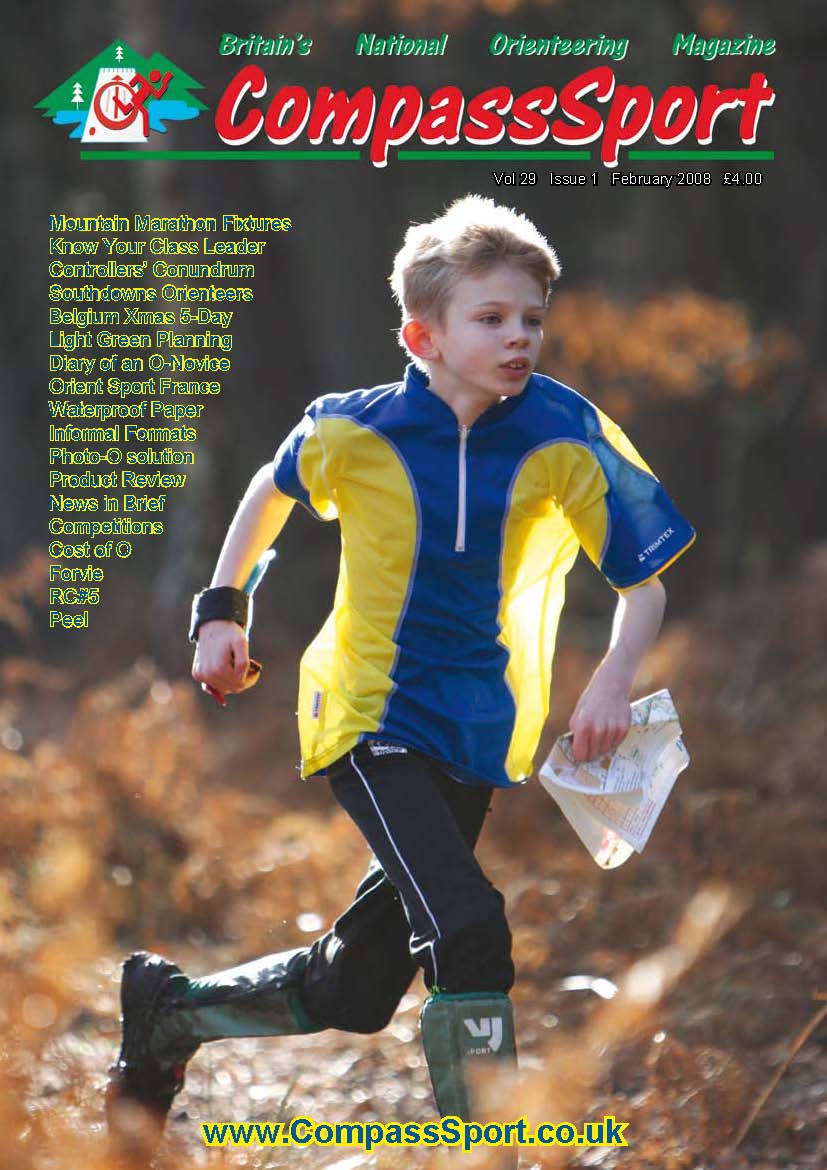 Magazine should have arrived on doormats 1st March so if you are missing your copy, let us know. As we had so much content, for the second time since I have taken over Editorship, we will be upping the pages to 56. This will equal the largest ever CompassSport produced. Includes Belgium Xmas 5 days, British Schools Champs, Orient'Show, Light Green Planning, Cost of O, Southdowns Galloppen, Diary of an O Novice, Waterproof Paper, MMR Calendar, and all the usual features like PEEL Coaching, Rumblings From The Forrest, Out of Control, Controllers Conundrum, Competitions, including the answers to the Photo-O....
DEC07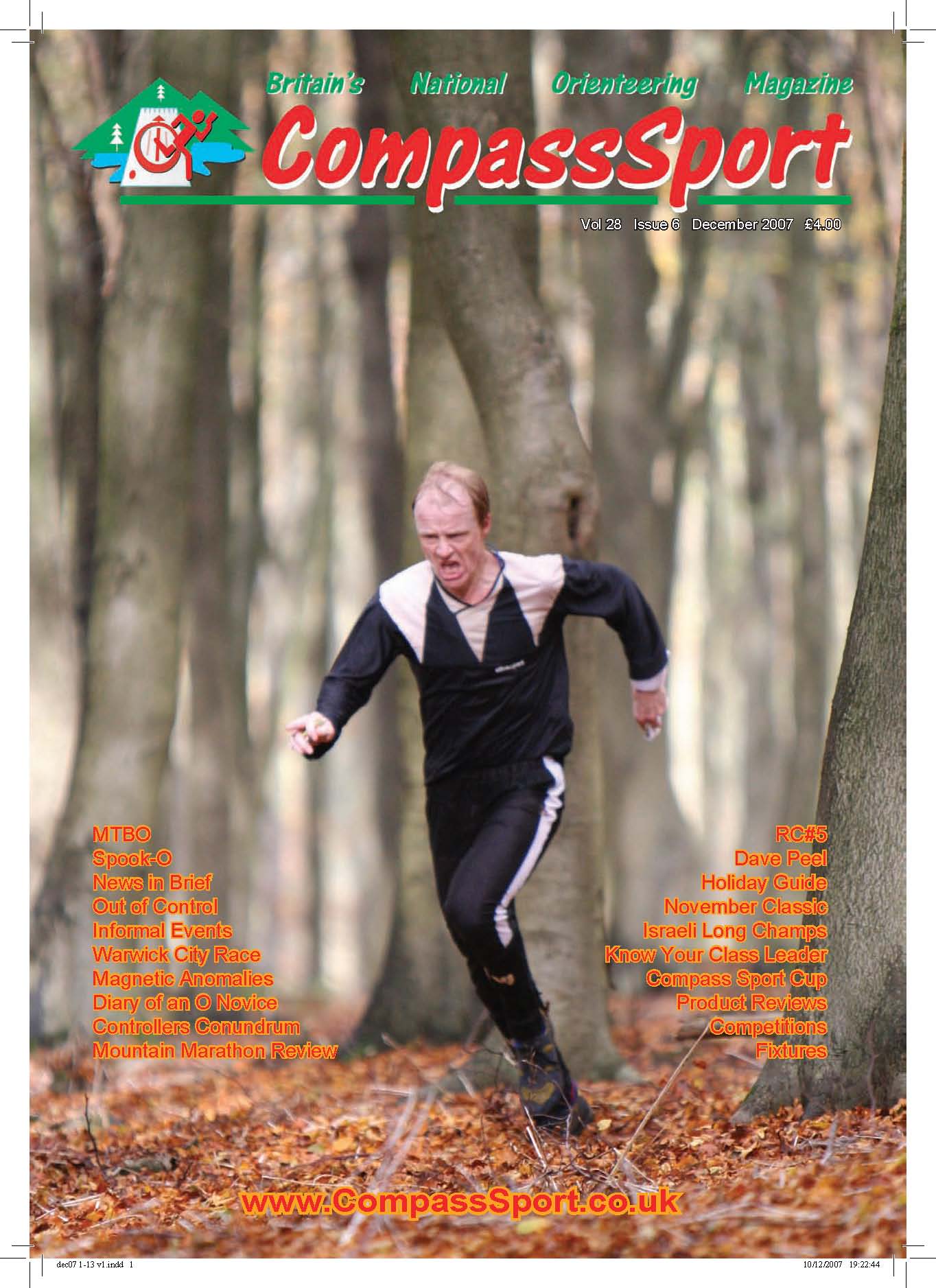 You should have got this by now if yu subscribe - contact us if not - Includes CompassSport Cup Final, Warwick City Race, World City Chase Final, Israeli World Ranking Event, Spook-O, Snooker-O, and of course, much much much much and even much more...
WHITE ROSE 2008
www.eborienteers.org.uk will be organising their usual weekend of fun on the August Bank Holiday weekend. We covered the event in 2007 focussing on their Night event and the article can be found here:-White Rose 2007 Pages 30&31 from CS 5-07.pdf
CompassSport is supporting Orienteer Ian Purchase's attempt to raise a million for Kidney Research. He writes " I am a 30 year old who has suffered renal problems my whole life. I have had 34 operations and am currently undergoing treatment for a 3rd kidney transplant. I am alive because of the people who do research into kidney disease." He goes on to say " I took up Orienteering to get fit for a kidney transplant whilst on dialysis and I have become addicted!" So Ian is asking you to donate 2gbp at http://www.justgiving.com/amillionthanks
the cost of a cheap pint. We hope you feel moved to give a little..
Half Price copy of CompassSport - JUN07 or OCT07
We have quite a few JUN07 issues left over and so are offering them for only 2gbp, rather than collecting dust in the CompassSport office, we feel they should be out there being read. (Other back issues are 4gbp). So for a limited time only, you can get a cheap taster of the magazine by mailing me Nick (at) CompassSport.co.uk with your address. I will post one to you when I receive your cheque or internet transfer.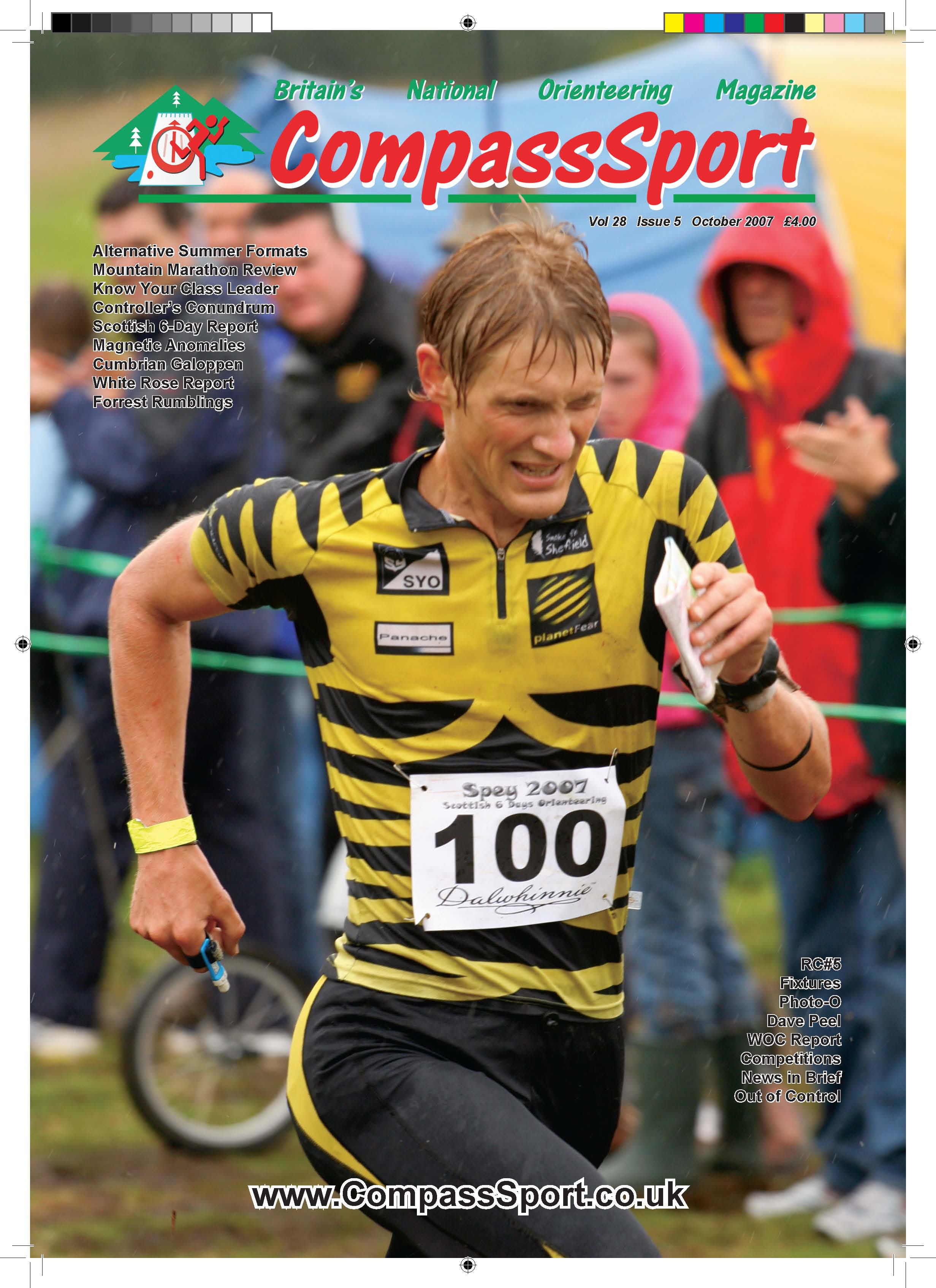 5 - 2007
The magazine was posted Thursday 1st November. Please mail us if you don't have it. It should contain a flier for a Slovenian Event too! Issue includes :Scottish 6 days, World Foot O Champs, and Euro MTBO Champs, EYOC, White Rose Night Score, Cumbrian Galloppen, Photo-O, as well as all the usual regular features...
4 - 2007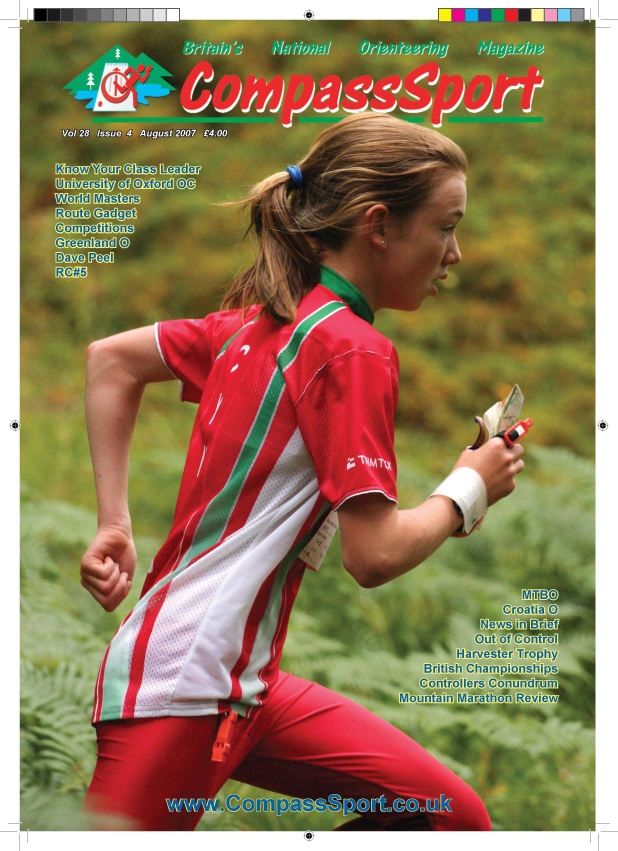 After a busy time in Norway, Sweden, Slovenia and at the 6-days this issue was always going to be a bit late. But fear not - it is now at the printers and should be posted from the mailing house by 7th Sept. Expect, as well as the usual excitment, articles on Greenland Arctic-O, Croatia Alpe Adria Cup, BOC07, Harvester 07, Concentration in Orienteering and much more!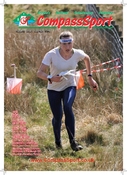 Issue 3 - 2007
Is there no end to the Orienterring Excitement produced by CompassSport magazine!? The June Issue is packed with all sorts of interesting things to excite and delight - JK07, Rogie Scotland Orienteering League, British Sprint Championships, Orange Course Planning, Routegadget, SpringTime In Shropshire, T-Shirt Etiquette, Irish Trail-O Champs., Edinburgh University OC and the usual favorites or Out Of Control, Controllers Conundrum, Fixtures, Hatches, Matches and Despatches, Fixtures, and you've guessed it, MUCH much MORE! ;-)
PHOTOS Uploaded
From Sarum Saunter Regional in March, BOC07 and British Relay Champs. Please click on Photo Sales on the left side toolbar.
WHITE ROSE 2007 - End of August - Read last years account of the 2006 White Rose. wr06page1, wr06page2, wr06page3 You can even win an entry in the April Issue of CompassSport. For more event information, see www.eborienteers.org.uk
Seaside Scramble Weekend Info and ISSOM Article from the last Issue, FEB 07 by Neil Northrop, event mapper, can be found here:- Sprint Issom and Seaside Scramble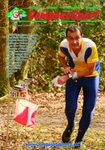 Issue 2 - 2007
Another tremendous issue, it covers, amongst other things, Whitbarrow Scar and Whitedowns National Events, Deeside Night Cup, British Night Champs., SLOW Steet League, GPS in O, JOK Chasing Sprint as well as all the usual columns such as Dave Peels Coaching Tips, Controllers Conundrum, Out of Control, and other features and Competitions - wicked!
1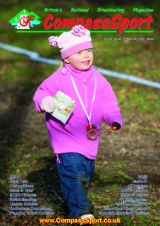 - 2007
Thanks for travelling with us through 2006 and we hope you are ready for the ride in 2007. There will be a few changes and we hope you will like them. Issue 1 will be at the printers from the end of the week (8th Feb). There will be the usual suspects and a few new ones, and look out for Route Choice #5 returning home. ...and if you have not got your subscription sorted for 2007, sort it now so you don't miss out!
If you were on a Direct Debit, you are NOT any longer as we have SCRAPPED THEM! Some people have not realised this.
Issue 1 out. Let us know if you have not got your copy. The issue contains the usual favorites as well as APOC 2006, Midland Night Champs, HH Ashridge Regional, FCC Review, Olis Top Tips, Lincolnshire Bomber, MTBO Fixtures, the story of the Karrimor to KIMM to OMM in Mountain Marathon Review, and lots more - I can't even begin to remember everything there is so much to read, look at, think over, analyse, show your friends and enjoy.
We have already had some comments on Issue 1. From Peter: "Feb 07 issue brilliant. Congrats." From John & Mary: "Magazine gets better and better!"
Don't miss out!
Also - 199 pictures from HH Ashridge Regional Event are now uploaded at 'Photo Sales', taken by CompassSport photographer, Mark Cheesman. Link on left!
CompassSport Binders
If your copies are sprayed across the living room and looking a bit untidy, we have the perfect solution for you. Get a Binder, in fetching red with a nice CompassSport logo on it - you can't go wrong and the neigbours will certainly go "oooohhh' when they see it! They are only 6.95 gbp including p&p. Mail me your details at Nick (at) CompassSport.co.uk
ISSUE 6
Issue 6 is out now and yet again we have turned out another fabulous edition ;-) It contains Out of Control, Controllers Conundrum, Dave Peels Coaching Tips, Fixtures, Holiday Fixtures 2007, Mountain Marathon Review featuring this years OMM and World Rogaine Champs down under, Northern Ireland Night Championships, CompassSport Cup & Trophy, Oxford City Race, Rewell SO Regional Event, November Classic, Memories of Ski-Orienteering, Sprint O Planning, two competitions and much much more!
Issue 5
Issue 5 is out now and it is action packed. The Issue includes coverage of the Lakes 5, White Rose, World Champs, World Universi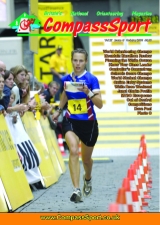 ty Champs, Planning White Courses, Online Entry Systems, European Mountain Bike Champs in Poland, British Schools Score Champs, as well as the usual favourites - Competitions (Photo-O and Logic Puzzle), Know Your Class Leader, Controllers Conundrum, Wedding-O, Janet Clarke Profile, Fixtures, Out Of Control, Dave Peels Coaching Advice and much more.
GB SQUAD SUPPORT FUND
Thanks to all of you who bought Christmas Cards in aid of the fund. I have a few left (understatment) so you may see them again in years to come :-) We so far have raised 350 gbp and when we shift the rest, it will be even more!
Issue 4
Issue 4 is out now. If you are a subscriber and have not got your copy yet, get in touch. The Issue includes reports on WMOC, Jukola, UDOC, SOW, Online-O, Lamm, Rogaining in Ireland, a top M45 and W65 in Know Your Class Leader, WTOC, WMTBOC, and much much more!...and if you don't understand these letters, buy issue 4 and find out what they mean!

Issue 3 contains coverage from BOC 2006, JK 2006, Know Your Class Leader featuring a couple of top M/W 40s, Harvester, The MADO effect, Dave Peels Coaching Tips, Lyn West Profile, Relay Planning, The usual fixtures and Letters, MV and CHIGs 40th Birthdays, Another Tricky Crossword from Eye, a potentially trickier spot the difference competition for some edible self-warming prizes!?! and much more... Can you afford to miss it!
After the universal success of 1/2006 (which is near to sold out!), Issue 2 again inspires, entertains, informs and intrigues in even more ways. If you have not got your copy yet and you think you have a current subscription, you are encouraged to contact us ASAP. A number or Direct Debit subscribers are currently missing

out.
Go to the 'News Section' for some comments on Issue 1 and 2/2006.
If you want to ensure you aren't going to miss out on the new look magazine then you should SUBSCRIBE NOW!

DIRECT DEBIT INFORMATION!
Due to cost and administration encumbrances of the DD system (we do not process 1,000's of payments!), this March 20th 2006 will be the last DD payment we will take. After this, DDs will cease. You need to look at your address label to see if you were paying by DD and when your subscription runs out. Please pay by an alternative method when your sub is due.

Issue 2 contains our regular Features of Know Your Class Leader, Coaching Advice from Dave Peel, Puzzles and Mountain Marathon Review which will contain the years Fixtures for MM and Adventure Racing, Other Fixtures, Post Bag and News in Brief. It will also include a profile on the new BOF Chief Exec.. Graham Gristwood looks at Schools Development and his roll in the Midlands and a new column called "Out of Control" asks if we should be putting all our eggs in the Schools Development basket. We also ask Ewan McCarthy, 2005 WOC runner about life in Halden, Norway. Events looked at include Northern Ireland Score Champs, Lincolnshire Bomber weekend, BUSA Student Champs., MTBO UK Cup in Scotland, BUSA, and the Army Champs on Ashdown Forest.
Want to know what you missed? Issue 1 contained Features such as Know your Class Leader, Coaching advice from GB Coach Dave Peel, So you think you can Score?, Brian Parker reflects with a final Controllers Conundrum, Competition O Crossword and O-Dokus, A Profile of Neil Cameron BOF Vice President, Heather Monro on Development, UK Cup Preview, UK Cup Fantasy League, Fixtures, Letters, News In Brief, Mountain Marathon Review and Event coverage such as Esher Common Micro-O, Around Aldershot Long-O and much more.
To be sure not to miss out, click on Subscriptions on the left for information on how to subscribe to this fine FULL-Colour 52 page magazine.
Want to mail the editor? Nick(AT)CompassSport.co.uk
Have fun out there!
The CompassSport Team