Suunto Vector
Details

Created: Sunday, 01 April 2012 21:48
Written by Nick Barrable
Welcome to CompassSport Magazine - the UK's Orienteering Magazine

Suunto Vector Watch Review

in association with www.WatchCo.com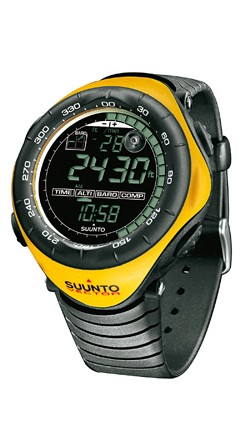 Suunto for many will be synonymous with Compasses. However, those Finns also make watches and other precision instruments, and here at CompassSport, we got to play with a watch which will no doubt appeal to a lot of Mountain Marathoners in particular. Why? Because it is an altimeter, as well as a compass (not much practical use but in an emergency if your compassbreaks, it works!) It also has all the usual watch functions including a light, stopwatch, countdown and alarms. The barometer helps give you an idea if the weather is going sour. It is also water resistant to 30m if you get a lot of rain ;-)
The watch was the first up Mount Everest apparently, and is Suuntos most popular watch. It is unisex but isn't necessarily ideal for a petit female wrist - I guess functionality costs size. One thing that is definitely good is the user replacable battery. Just get a coin to open up part of the watch back and replace. Not least it is ideal as my battery died ofter quite a short time - normally they will last 12-18 months.
I thought the watch looked sporty and was surprisingly light and robust, despite its size. the yellow design has the potential to clash with other colours if you are fashion conscious.
If you are wondering where to get one from, or indeed others in the
Suunto range
, then
www.WatchCo.com
is the place to look. Shipping is free so the price you see is what you pay. They also have a price guarentee policy and a 365 returns policy - so you really can't go wrong. They are also obsessed with original watches - no fakes here! Some browsing and you'll discover there aren't many watches they don't sell.